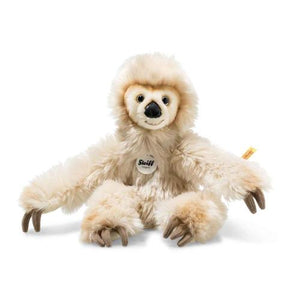 Miguel is always ready for any adventure — despite moving so slowly. Miguel's characteristic claws have been crafted from Trevira velvet in an authentic-looking shade of beige. His cute nose is made of black faux leather and adds to the adorable look of his ivory-coloured face. A sewn-in bean bag adds weight and stability. Detailed airbrushed accents on his face and near his claws complete his appearance. 
Material: Made of Cuddly Soft Plush
Size: 13"
Color: Cream
Care: machine washable at 30° C
Made in Tunisia
Lovingly handmade in the workshops of Steiff using traditional manufacturing techniques. Featuring the world famous "Button in Ear" trademark, symbol of highest quality. From Steiff, the company that pioneered soft toys in 1880.
Steiff is a German Toy Company. Founded in 1880, Steiff was the originator of the jointed Teddy Bear in 1902. Their stuffed animals are certain to become family heirlooms.